2018 Event
The 2018 Managed Futures Pinnacle Awards honored top managers with a total of 17 awards, including the Pinnacle Achievement Award presented to Andrew Lo.
ANDREW LO, CHAIRMAN EMERITUS AND SENIOR ADVISOR, ALPHASIMPLEX
CHARLES E. AND SUSAN T. HARRIS PROFESSOR, MIT SLOAN SCHOOL OF MANAGEMENT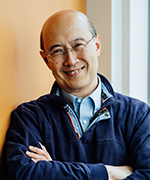 Dr. Lo founded AlphaSimplex in 1999. The firm draws from his extensive research in financial economics, risk management, and human behavior. Prior to 2018, Dr. Lo served as Chairman of the Board of Directors and Chief Investment Strategist. During this period, he was a member of the Investment Committee and Risk Committee, as well as a co-portfolio manager of certain funds advised by AlphaSimplex.

Beginning in 2018, Dr. Lo serves as Chairman Emeritus and Senior Advisor. Dr. Lo will continue to pursue his cutting-edge research and academic work while working with AlphaSimplex to continue the connection between his research and AlphaSimplex products.

In addition to his role with AlphaSimplex, Dr. Lo is the Charles E. and Susan T. Harris Professor at the MIT Sloan School of Management and director of MIT's Laboratory for Financial Engineering. His other interests include outreach efforts in applying financial engineering to accelerate biomedical innovation.

Dr. Lo has authored numerous journal articles and published several books, including Adaptive Markets: Financial Evolution at the Speed of Thought (2017), Hedge Funds: An Analytic Perspective (2008), A Non-Random Walk Down Wall Street (1999), and The Econometrics of Financial Markets (1997).

Dr. Lo earned a B.A. in Economics from Yale University as well as an A.M. and a Ph.D. in Economics from Harvard University.
Click here to download photos from the meet & greet with Colin Jost.