2019 Event
The 2019 Managed Futures Pinnacle Awards honored top managers with a total of 23 awards, including the Pinnacle Achievement Award presented to Martin Lueck.
MARTIN LUECK, RESEARCH DIRECTOR AND CO-FOUNDER OF ASPECT CAPITAL INC.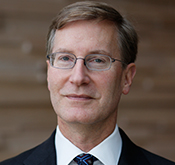 Martin co-founded Aspect Capital in September 1997. Aspect is a  $7.2bn systematic investment manager which provides diversifying investment solutions spanning Managed Futures, Alternative Risk Premia, Currencies and Multi-Strategies. As Research Director, Mr. Lueck oversees the teams responsible for the development of all Aspect's investment programmes. Prior to Aspect, Mr. Lueck co-founded AHL (Adam, Harding and Lueck Limited) in 1987, eventually selling to Man Group plc in 1994. At AHL, Mr. Lueck was instrumental in developing AHL's trading systems and approach to research.

Martin serves on the Board of the National Futures Association. He holds an M.A. (Hons) in Physics from Christ Church, Oxford and is currently Chair of the Oxford Physics Development Board.
Click here download photos from the meet and greet with Jeff Garlin.